Frankie Knuckles – 'Tales from beyond the tone arm'
Últimamente venimos comentando que el sonido House americano será protagonista para esta nueva temporada, y aquí tenemos otro ejemplo de ello.
Con más de una docena de temas propios, remezclas y «Director's Cut», uno de los grandes exponentes del sonido House de Chicago, Frankie Knuckles, lanzará al mercado el próximo 12 de noviembre 'Tales from beyond the tone arm'.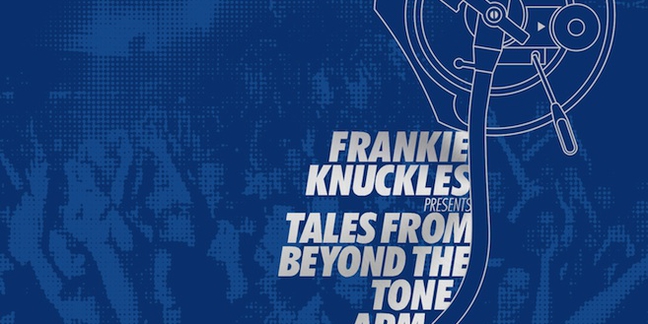 El primero de los discos aparece con el título de 'The classic side', en el que los sonidos clásicos de la ciudad de los vientos son los protagonistas absolutos. Lleno de pistas que son una reminiscencia de los días felices de la música house allá por los años 90 y en el que su apodo Director's Cut, con su socio Eric Kupper, pretende revivir aquellos maravillosos años.
'The soultronic Side', la segunda parte de la entrega del de Chicago, lleva a la vanguardia la fusión de sonidos conmovedores y dando protagonismo a jóvenes talentos como Rober Gaez o Belocca.
Un muestrario ecléctico pero fiel a unos de los sonidos bandera de la historia de la música electrónica, protagonizados y codirigidos por uno de los grandes abanderados de la capital de Illinois.

Tracklist 'Tales from beyond the tone arm' de Frankie Knuckles:
CD 1 – The Classic Side
1. Frankie Knuckles pres. Director's Cut – The Whistle Song
2. Hardsoul feat. Ron Carroll – Back Together (Director's Cut Classic Club Mix)
3. Frankie Knuckles pres. Director's Cut feat. Sybil – Let Yourself Go (A Director's Cut Master)
4. Richard Earnshaw feat. Jocelyn Brown – Worthy (Director's Cut Classic Club Mix)
5. Frankie Knuckles pres, Director's Cut feat. Jamie Principle – I'll Take You There (Director's Cut Classic Signature Mix)
6. Groove Assassin & Kenny Bobien – About Love (Sean McCabe's Alt Vocal Dubbed Mix)
7. Hani & Andrea Martin – Middle Of The Night (Extra Sauce Mix)
8. Kruse & Nuremburg feat. Stee Downes – Last Chance (Original Version)
9. KennySummit & Director's Cut pres. Yasmeen – Loving You (Original Mix)
10. Candi Staton – Hallelujah Anyway (Director's Cut HalleDubya Anyway)
11. Lil'Louis – Fable (Director's Cut Classic Club Mix)
12. Il Padrinos feat. Jocelyn Brown – That's How Good Your Love Is (Club Mix)
CD 2 – The Soultronic Side
1. Frankie Knuckles pres. Director's Cut feat. B. Slade – You Make Me Feel (Mighty Real) (DJ Meme's Mix Of Epic Proportions)
2. Joey Negro – Feel It (Alex Kenji Remix)
3. The Shapeshifters & C-Dock – Nothing But Love For You (Director's Cut Breathtaking Adventure)
4. HumanLife – In It Together (Director's Cut Signature Togetherness)
5. Colton Ford – Let Me Live Again (A Director's Cut Master)
6. Ono– I'm Movin' On (Director's Cut Club Mix)
7. Quentin Harris & Ultra Nate – Give It 2 U (Frankie Knuckles' 'Gagatha Christie' Mix)
8. Inaya Day & Robin S – Right Now (A Director's Cut Master)
9. DJ Vivona & Joi Cardwell – Return To Love (A Director's Cut Treatment)
10. Dbow – Get Involved (Original Mix)
11. DJ Chus & Rob Mirage – Back 2 NY (Original Stereo Mix)
11a. Frankie Knuckles pres. Director's Cut feat. Jamie Principle – Your Love (Acapella)
12. Frankie Knuckles pres. Director's Cut feat. Jamie Principle – Your Love (Belocca & Soneec Vocal Dub)
13. Frankie Knuckles pres. Director's Cut feat. B. Slade – Get Over U (Rober Gaez 'Mustache' Mix)
Contenido Relacionado
Fuente: deejay.es